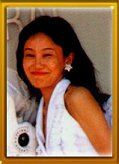 Yes, there is a single person responsible for the creation of the beautiful story and the lovely artwork of Sailormoon. This is Takeuchi Naoko, the author and artist of the Sailormoon manga. For a clearer picture of her, click here.
Not only is this lady a talented manga artist, she is also a skilled tale-spinner. She's written an epic for the modern times, encompassing everything that a good fairy tale needs and more -- good and evil, hope and despair, peace and war, reincarnation and magic, the importance of friendship and kindness, and a true, deep love that spans centuries and worlds. She's got intrigue, character development (and some pretty fascinating, well-defined characters at that), a rather complex plot line, and pretty much anything you could want. And she illustrates it all beautifully, too.
Naoko was born on March 15th, 1967, in Kofu City, Yamanashi Prefecture, Japan. Her mother's name is Ikuko, her father's Kenji; she also has a younger brother, Shingo. (Any of this sounding familiar?) As of now, she's living in Azabu, in the Juuban district of Tokyo, where Sailormoon supposedly took place.
She graduated from Kyoritsu Yakka University, specializing in ultrasound and medical electronics. To relax, she likes to drive her nice, fast car (Poru-poru-kun) to enjoy the night view from the Rainbow Bridge in the Chiba Bay area.
Manga rules her life, or so it seems. As of January '99, she is married to Togashi Yoshihiro, manga author of shounen series such as Yuu Yuu Hakusho and Hunter X Hunter; he is apparently also a game otaku. <grin> She is also friends with many other manga artists, such as Yoshizumi Wataru (Marmalade Boy), Hiura Satoru (Angel Blue, Paradise Cafe), Hagiwara Kazushi (Bastard!!), and Watase Yuu (Fushigi Yuugi, Ayashi no Ceres).
In September 1986, Takeuchi Naoko won Kodansha's 2nd New Manga Artist Award with the manga romance Love Call, published in the Nakayoshi magazine. In 1991, she decided to do something a little different for Kodansha's Run-Run magazine; Takeuchi had an interest in live-action heroes and decided to create a masked girl who wore a variation of the Japanese schoolgirl's uniform, the "serafuku," or "sailor suit." This was the playful, good-hearted Sailor V; Codename wa Sailor V made its debut in the August 1991 issue of Run-Run.
She wasn't the only one who liked the idea. Sailor V became quite popular, and TV Asahi took an interest. Asahi approached Naoko with an offer: they would base a TV anime off her series if she created a team of senshi, instead of just one. So Naoko came up with a new lead character, whom she called Sailor Moon. The manga Sailor Moon series ran in the Nakayoshi magazine from February 1992 to March 1997, eventually winning the 17th Kodansha manga award in 1993; the TV anime version came out on March 6th, 1992.
Published by Naoko:

| | |
| --- | --- |
| Chocolate Christmas | 1998 |
| Maria | 1990 |
| The Cherry Project | 10/1990 to 12/1991 |
| Code Name wa Sailor V | 8/1991 to 11/1997 |
| Bishoujo Senshi Sailor Moon | 2/1992 to 3/1997 |
| Miss Rain | 1993 |
| Prism Time | short stories |
| PQ Angels | 9/1997 to 12/1997 |
| Princess Takeuchi Naoko's Return-to-Society Punch!! | 12/1998 and 1/1999 |
She doesn't seem too happy with her old publishers at Kodansha; her latest manga (Princess Naoko's Return to Society Punch!!, published by Shueisha) goes on and on about how she never had any time, how she was always working on Sailormoon, and how Kodansha lost her manuscripts and generally mistreated her. Since PQ Angels was being published in Kodansha's Nakayoshi magazine and stopped abruptly, it doesn't look like it's ever going to be continued. Oh well. As far as I know, she's being published by Shueisha now, and seems much happier.
Apparently her marriage with Togashi-san is working out quite happily, too. They've recently published a funny little one-shot manga together - I can't think of anything more cute.
---
For a much more in-depth look at the wonderful creator of Sailormoon, go to MoonShine's Naoko Takeuchi section, or to Alex Glover's Takeuchi Naoko Information. I got most of my information from those places. (Thanks!)